Fighting Sex Trafficking - "Human Slavery"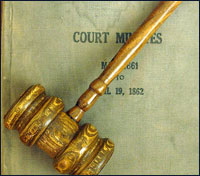 Senator Ron Wyden is standing tall against some of the most heinous crimes against human dignity by bringing a bipartisan solution to the continuing epidemic of human sex trafficking.
Partnering with Senator John Cornyn (R-TX), Senator Wyden is committed to fighting this "human slavery." Together, Wyden and Cornyn have introduced the Trafficking Deterrance and Victims Support Act to address this growing, dangerous problem.
"Sex trafficking is slavery, pure and simple," said Wyden. "It's a crime against human dignity in which girls - teenage and even younger - are bought and sold for sexual exploitation. It is an international problem, but it a very real Oregon problem."
The Wyden/Cornyn bill represents a step in the right direction on an important, ongoing problem. Through federal grants, the legislation establishes shelters for victims, and programs for treatment, shelter, and legal aid. The bill also will crack down on the pimps through aid and increase funding to local law enforcement.
Senator Wyden's efforts are an important step. The Eugene Register-Guard notes that "it's difficult to overstate the need for such services" and that "Congress should approve the Wyden-Cornyn bill."
"It's time we started rescuing the victims of sex trafficking and imprisoning those who profit from human slavery," said Wyden. "The federal government has a responsibility to catch and prosecute modern-day slave owners, and providing a realistic way out for their victims will help achieve that end."
---
Photo by Jonathunder.