defending our majority at all costs
In just the last few months, Democratic leaders have taken immediate action to curb the pandemic, provide economic relief to the American people, and lower health care costs – bold steps that wouldn't have been possible without our Senate majority.
We need to commit early to defending – and expanding – our razor-thin majority; Senate Republicans and outside groups are already attacking four vulnerable Democrats: Catherine Cortez Masto (D-NV), Maggie Hassan (D-NH), Mark Kelly (D-AZ), and Rev. Raphael Warnock (D-GA).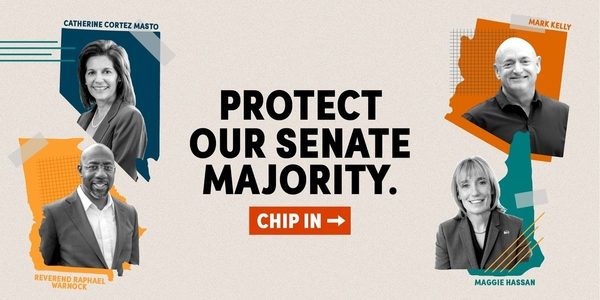 Mitch McConnell only needs to flip one seat to take back the Senate: Donate $9 now to help these Democrats defend our Senate majority.
In this moment in history, every single Democratic voice matters – and these four are as fearless as they come when it comes to defending our shared values. With Catherine, Maggie, Mark, and Raphael on our side, the Senate will at last be able to debate and pass meaningful gun safety reform, protections for the LGBTQIA+ community, transformative criminal justice reform, election security measures, national vote-by-mail, improve health care for every American, and much, much more.
And that's exactly why Mitch McConnell is working so hard to defeat them.
With the future of health care and a Democratic agenda on the line, our progressive movement needs to rally early and rally strong. Please chip in now to hold on to these four critical seats and our Senate majority!
Ron
Posted on March 23, 2021
.