The most comprehensive climate legislation in history
I've got some good news. The Senate just passed the most comprehensive climate legislation in our nation's history.
This is a huge win.
The climate crisis demands big, bold action, and I'm proud to have fought tirelessly to get this legislation across the finish line to meet this crisis with the solutions it demands.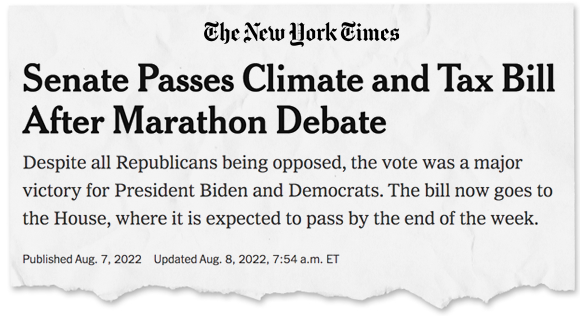 This bill tackles the climate emergency by:
Reducing carbon emissions. This bill will slash carbon emissions by 40% by 2030.
Investing in clean energy. This legislation incentivizes investment in clean energy technology to cut carbon emissions and secure a clean energy future.
Generating jobs.By creating incentives for new clean energy technology, this legislation will create new good-paying jobs right here on American soil.
Lowering energy costs. By transitioning to a clean energy future, this legislation will help reduce our dependence on dirty fossil fuels and lower costs for households nationwide.
The climate emergency is not a distant threat. It's here, now, and we're living it. Here in Oregon – and much of the country – we're coming off of yet another heatwave, with temperatures averaging in the 100s. Year after year, we're breaking all the wrong kinds of records.
The American people elected a Democratic majority in Congress because they trusted us to take big, bold action on the climate crisis and much more. I'm proud to say we've delivered.
I couldn't be more proud of the progress we've made, and it's clear that if we want more progressive priorities to make it across the finish line, holding onto – and expanding – our Democratic majority in the Senate is critical.
I'll continue fighting for the priorities I know matter to you and your family. In the meantime, let's celebrate this win because it's a really, really big deal, and it wouldn't have been possible without your grassroots support to send progressive leaders to the Senate.
Onward,
Ron
Posted on August 8, 2022
.