Why Republicans really want to defund the IRS
Five years of Donald Trump's tax returns filled nearly 6,000 pages. But the IRS could only afford to assign one agent to audit them.
This isn't an accident. Republicans in Congress have spent decades chipping away at the IRS budget to the point that it is so stretched for resources it cannot serve the American people or go after wealthy tax cheats.
Republicans are doing everything in their power to keep it that way.
Just days ago, as we headed back to D.C. for a new Congress, House Republicans' very first vote was on legislation to further defund the IRS and protect rich tax cheats.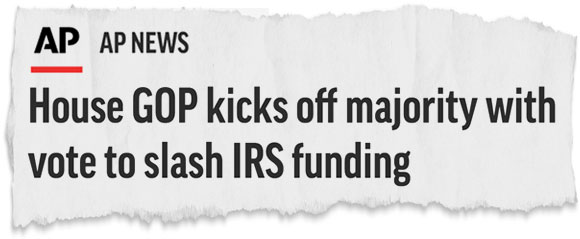 A decade of Republican tax cuts made it virtually impossible for the agency to crack down on tax dodgers and big corporations. Democrats worked hard this summer to pass the Inflation Reduction Act and give the IRS the funding to go after wealthy tax cheats and big corporations while improving service for everyday Americans.
But just hours after taking power back in the House, Republicans showed the American people what's really at the top of their to-do list: helping their deep-pocketed friends and donors stay wealthy while the other 99% of Americans pay their fair share.
Thanks to this grassroots movement, Democrats expanded our majority in the Senate, and this bill will go nowhere. But this gives us a taste of what's to come if Republicans manage to expand their power. Democrats are going to keep working hard to create an economy that works for everyone, not just the top tax brackets. We can't do it without your help. Will you join our movement with a donation of $3?
If the wealthy paid their fair share (or even what they legally owe), we could easily fund Social Security, Medicare, affordable housing, and create safer schools and communities. But Republicans have no interest in that. They only care about grabbing their dwindling power and keeping their big donors happy.
And make no mistake; Senate Republicans would pass this bill if they held the reins. We must continue to build up our movement and be ready to defend our majority again.
We'll continue to work toward legislation for working families, not the wealthy few. Together we can create an America that works for everyone.
Ron
Posted on January 17, 2023
.