Democracy works best when everyone can participate
Since our state adopted vote-by-mail in 2000, Oregon has seen some of the highest voter participation rates in the country. And in the most recent election, it was the highest in the nation.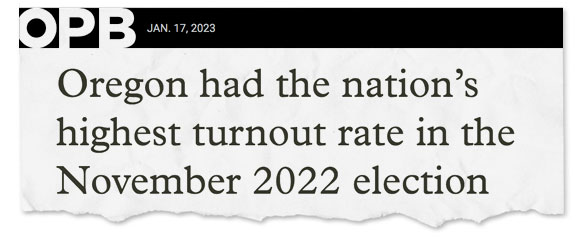 Vote-by-mail is easy, accessible, cheaper, safer, and opens the doors to democracy for every single person wanting to make their voice heard. This is why, year after year, I've fought to expand Oregon-style vote-by-mail nationwide. Because every American deserves the right to vote the Oregon Way: from the comfort and safety of their own home.
Because I believe that Democracy works best when everyone can participate.
Nationwide vote-by-mail will not only allow more people to express their voices, but it will also increase accountability for our leaders. Plus, it creates an "unhackable" system to verify election outcomes.
So, why do Republican legislators continue to resist vote-by-mail? Because they're scared of fair and free elections. They would rather rely on dirty methods – long lines, voter purges, disinformation, racist ID requirements – to keep voters away from the polls, especially people of color. As a result, it has become harder and harder for Americans to exercise their fundamental right to vote.
I believe in America's founding ideals: a democracy where everyone's voice is represented. And I want to make sure your voice is heard.
I promise to continue the fight to make voting easier and more accessible to every eligible American.
More soon,
Ron
Posted on January 20, 2023
.