Republicans wanted to keep this quiet
Republicans' war on women's reproductive care continues. This time, in South Carolina, where Republican lawmakers just proposed a bill that would make getting an abortion punishable by the death penalty.
Yes, you read that correctly.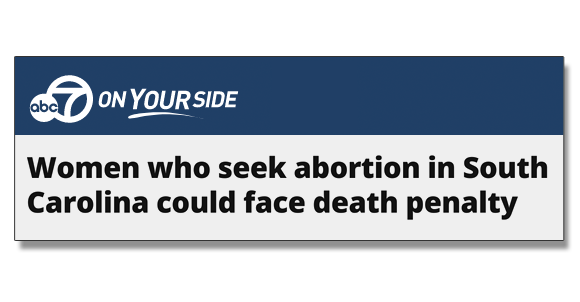 This bill would expand the definition of personhood in South Carolina to begin at fetal conception. It would charge women with murder for having an abortion or intentionally causing a miscarriage.
If this draconian plan passes, more women will die.
But Republicans don't care. All they care about is power and control over women's bodies.
This plan is being put forth by the party that has the gall to refer to themselves as "pro-life." And while this legislation is only in South Carolina, it's a symptom of a broader movement of right-wing extremism taking hold in every corner of our country.
That's why we're growing our pro-choice movement now. Chip in today to expand our majority with progressive leaders who will do whatever it takes to protect women and their reproductive rights.
Republicans have spent years stacking our nation's courts with right-wing judges and justices willing to do their dirty work for them and legislate from the bench, because they know that the majority of Americans support protecting access to safe abortion.
But their scam isn't going unnoticed. I will never stop sounding the alarm on Republican cruelty whenever I see it, and when the time comes to vote them out, we will be organized and ready.
Chip in before our end-of-quarter deadline tonight to ensure we have the resources we need to call out every anti-choice attack and elect leaders who will protect and expand reproductive rights in all 50 states.
Let's get back to work,
Ron
Posted on March 31, 2023
.