Voting against women
It's been over 100 years since Congress ratified the 19th Amendment, ensuring women the constitutional right to vote. But decades later, women still don't have equal protection under the Constitution. Many states still have laws in place that discriminate against women, and the worst part is – those laws are still constitutional.
And just days ago, Republicans on the Senate floor blocked the Equal Rights Amendment, which would have guaranteed women equal protection under the Constitution.
It's ludicrous that more than 100 years after guaranteeing women the right to vote, we are still debating whether or not to protect women from discrimination under the Constitution.
This shouldn't be a partisan issue.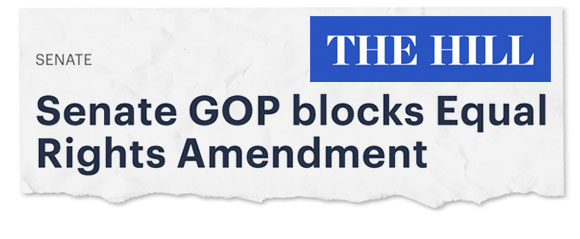 Between blocking the Equal Rights Amendment, ripping away reproductive freedom, voting against equal pay, and more, Republicans in Congress have made it clear they'll stop at nothing when it comes to blocking progress on women's rights.
It should go without saying that our nation's elected officials will vote to end discrimination based on gender, race, age, and sexual orientation. But just like so many other things, Republicans have weaponized this issue with their partisan talking points instead of doing what's right for our country.
We need to expand our Senate majority so we can continue to build on progress, not turn back the clock to yesteryear. Help defend and expand our Senate majority from Republican attacks with an $7 donation.
DONATE NOW
Together we can create a world where we not only protect women's rights but work to expand them.
More soon,
Ron