No one is too extreme for House Republicans
For years, the GOP has been catering to and emboldening the most extreme members of its party.
Last week, Congress averted a government shutdown at the 11th hour, but we're just weeks away from another looming deadline.
And after days of Republican infighting, far-right extremists in the House succeeded in ousting Speaker Kevin McCarthy. Now, there's no clear path forward to who will emerge as leader of the House of Representatives.
Now, instead of getting to work to avoid a disastrous shutdown and deprive Americans of the services they rely on, the House Republican majority has been thrown into chaos, unable to elect a Speaker. If Republicans in the House can't even decide who they want leading them, I don't have high hopes they'll be able to agree on a plan to keep the government open in November.
As if this weren't already concerning enough, even ex-president Donald Trump's name has been floated to be the new Speaker of the House.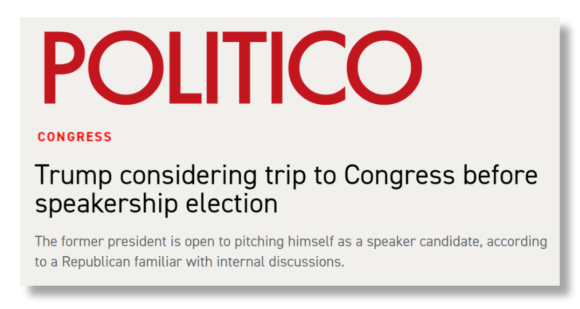 I honestly cannot think of anyone less qualified to lead a legislative body. The man has been indicted four times and impeached twice — he has no business leading any arm of our nation's government.
This would be laughable, if it weren't so downright terrifying.
As we watch this chaos unfold in the House, keep in mind that this is the future MAGA Republicans want, and if given the opportunity, they won't hesitate to spread their dysfunction to the Senate.
The Republican Party is not fit to lead our country. Plain and simple.
The last few days have been a sobering reminder of why it's so critical to protect and expand our Democratic majority in the Senate, and retake the House from this Republican chaos.
Our movement is strong. We've pushed MAGA Republicans back before; now it's time to do it again. Donate now and help fuel the fight!
More soon,
Ron
Posted on October 8, 2023
.